A Tournament Report from Badminton Alpha Player Anna, who was successful in winning Gold at the Island Games in the Ladies Singles Badminton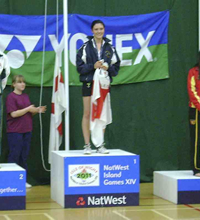 The opening ceremony to the Isle of Wight Island Games was a fantastic event involving a carnival with 1,500 youngsters from primary schools on the Island, with Seb Coe, the former Olympic champion runner, officially opening the games. Over 3000 athletes from 24 islands around the world, paraded through Ryde to the sea front being cheered and clapped by supporting locals.
Day 1 of the games and the Isle of Wight team had a tough draw against the Faroe Islands. The match was lost 4-1, with some tight matches but excellent team spirit from the start. The afternoon saw a win over Shetland, which put us in running for 5th-8th place. Winning this group with defeats over Bermuda, Jersey and Menorca, the Isle of Wight finished in 5th place, a good result that the whole team was pleased with.
Over the following 5 days was the individual event. Singles was on Wednesday where I reached the quarter finals, having won the two previous rounds against players from Jersey and Gotland. The quarter final was against no.1 seed Cristen Callow from the Isle of Man. I won this with a very close 23-21 win in the first set and slightly less nerve-racking 21-12 in the second. Already really happy with how far I had got, I played the semi-final against a player from Greenland and won this in 2 straight sets. The final was to be played on Friday against Kiara Green from Guernsey.
Thursday was mixed doubles where I partnered Ian Walder. Being our first competitive tournament we had played together, we both played really well together and were so happy to reach the semi final against a pair from the Faroe Islands. We lost in three sets, but still had a play-off for third position the following day.
In the morning, both suffering from injuries, Ian and I were still determined to come away with the bronze medal and managed a fantastic win over a pair from Greenland. In the afternoon, was the ladies singles final. We were both very nervous but had excellent support and played out a good match. The team went wild when I had won the match and was a brilliant moment. Support the whole week from the team as well from other islanders was incredible and made it a really enjoyable week.
Anna Showan