At the top of the tree in the new N-Forze line in 2012 from FZ Forza is the brand new N-Forze 10000 I-power. The N-Forze line is designed to be slimline, lightweight and ideal for fast reactive play. Lets start with how the racket looks.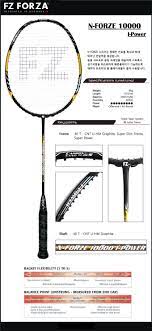 Appearance
This racket looks great, in a break from most rackets, there is very little actual paint on this, the majority of the racket is bare showing all the natural weave of the racket only being covered by shiny gloss. This looks great and really shows off the construction beneath the paintwork! Where there is paint there are flashes of yellow and silver, overall this racket looks fantastic and is certainly one of a kind!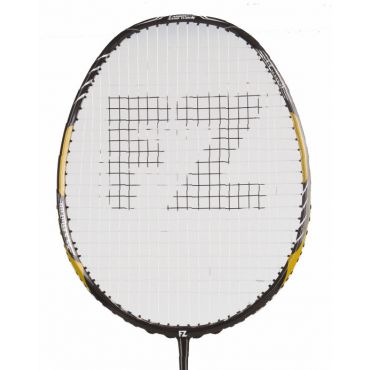 The Specs & Construction
88 Holes
Weight – 86g
Balance - 290 mm (Medium)
Flex. - Stiff (4/5)
Shaft - 40T - CNT U-HM Graphite
Frame - 40T - CNT U-HM Graphite, Super Slim Frame, Super Power
I-Power
One of the most important features of this racket is the I-Power technology shaft. This is new technology from Forza where by the shaft's internal diameter varies from top to bottom, this therefore raises the flex point of the racket up the shaft towards the head compared to a standard racket. The effect of this is that this racket gives a serious kick of power when used with a short punchy stroke, ideal for the fast player.
The Play
This racket is a great racket for fast play due to its slimline frame and narrow head it is lightning quick through the air. It may say of the specs that it is even balance but its speed through the air makes it feel headlight. With the I-power technology this racket also doesn't lack on power with other light racket tend to do, with full court clears being easy to achieve and smashes with a good amount of power if used in conjunction with a fast snappy action, however if you are looking for a power racket this is not the one for you. This racket also feels well balance around the net whilst playing tight net shots as it is easy to direct with its slimline frame and head.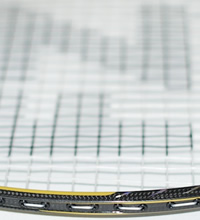 Overall this is a very impressive racket if you are looking for a slim fast racket which is ideal for doubles play. The I-Power system is also an added bonus for situations when a shot which is need with that little bit of extra power.
The N-Forze 10000 I-power is available from Badminton Alpha at £112.45