This Guest Post comes courtesy of @welshboy69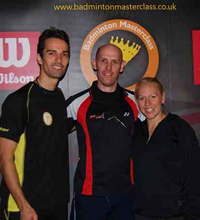 I started playing badminton thirteen or fourteen years ago. A colleague, Gordon, and I used to play once a week after work. We weren't brilliant by any stretch of the imagination but we enjoyed the competition and the exercise.
One day whilst playing in my local sports centre, a pair, who we didn't know, playing on an adjacent court asked us if we fancied a game of doubles. We played, chatted and might have even joined them for a beer in the bar afterwards.
After several weeks of occasionally meeting, the pair suggested we might like to join a club (Blaenavon Badminton Club) that played in the centre on a Monday night. It was a social club that didn't play league matches.
I joined. They were incredibly welcoming even though I could barely strike the shuttle cleanly. The club consisted of players with a wide range of abilities, but all offered advice freely, sometimes conflicting, but always well intentioned.
As I improved as a player I started to seek out other clubs where I could practice and further develop my skills. I started to play a couple of times a week. I joined a second club (Pontypool Badminton Club) who played on a Thursday. Again, the club was very welcoming. The skill set of the players was slightly different to my Monday club; there were some very good players. Many of the better players from Monday played here. I was definitely the weakest but this seemed not to matter.
The years went by and some clubs folded, some didn't. I continued to play sometimes as much as four or five times a week. I even started to get some coaching. The first coach we commissioned through the Welsh Badminton Union was Paul le Toq – a Welsh international! Fancy us, a little club from the valleys in Wales with an international player coaching us. Paul was brilliant; we understood very quickly what it meant to 'play' badminton. He even stayed sometimes after the session for a drink.
Paul went away on international duty and we replaced him with Tony Tullock from Cardiff. It was about this time I changed my jobs and found myself traversing the country, and this is kind of why I'm writing this blog.
I found I could be anywhere in the country on any day of the week. Thanks to the internet (how did we live before it became so ubiquitous?) I could find badminton clubs, within relatively short distance of where I happened to be. A quick phone call or email asking if I could come along as a visitor would normally suffice and that'd be my evening sorted – a much healthier alternative to gorging on bad food and good beer.
Again I met some lovely people. This 'tour of duty' did my confidence the world of good, here was I holding my own at clubs all across the country. Not winning every time but making my opponents win the points. Again, advice was always free and well intentioned.
During this time I'd gained my leaders award with the Welsh Badminton Union with funding support from a community chest grant and started to play with Cardiff Badminton Club. Later with Cardiff, and with the support of a lottery grant I did my UKCC level one coaching award. I also started helping out the local badminton development officer, Steve Jones.
As I'm writing, I'm remembering of all the other things that I've been fortunate to do as a result of badminton. I've called the lines at the Welsh Open, I've played badminton with world class players, I've had coaching sessions from some of the best coaches in the world, most memorably with Thomas Engholm the Danish coach. I am very very lucky.
The reason I started writing this blog was the social aspect. I've now moved away from Wales to London (I suspect there's a whole different blog talking about the differences between the two areas), but the badminton ties are still very strong.
I still see Gordon occasionally, but the pair mentioned in the second paragraph on the adjacent court has become life-friends even though one of them is now living in Australia. I'm still in contact with so many of the players and coaches even though they live in the four corners of the planet. Facebook makes this easier.
The first thing I did when I moved to London was join a club (Coulsden and Purley Badminton Club). I've made many friends as a result.
My advice to any player is go and play at other clubs as well as your own. People who play badminton, in my experience are lovely, and are always willing to offer advice. In return, you must do the same. If someone wants to play, be generous with your time and experience. If you get the chance to become a coach take it. You never know, you just might help a future international player on his or her way.
@welshboy69